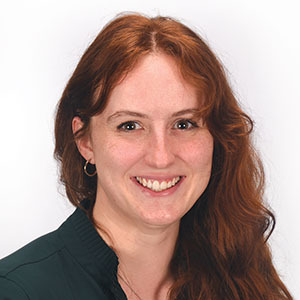 Olivia Biskobing
Media Coordinator
Meet Olivia, Insight's resident marketing aid and animal advocate.
Olivia works closely with each department to ensure media workflows seamlessly throughout the agency, including SEM campaigns, media and billboard proposals, invoice management and more.
Communication
with
substance.SM
Olivia embodies communication with substance by clearly communicating the needs of the media department and interpreting complicated technical information and jargon with each department and team member at Insight.
How she got here
While she didn't dream of any specific job as a child, Olivia was always using her creativity to dream up and design fake products, brand advertisements and logos when she was young. This led her to major in business communications in college, where she fell in love with marketing and gained hands-on experience interning for a small agency in Dublin.
After obtaining her bachelor's degree in business communications with a minor in communication media studies from St. Norbert College, she gained experience as a store marketer for a local restaurant before bringing her passion and talent to the Insight team.
To Olivia, working at Insight means...
Working with a team of people who are equally talented and humble. Everyone values each other and there's a great atmosphere among the team that inspires collaboration.
Olivia's #1 marketing tip
When setting your marketing goals, clearly define your target audience. Who is your ideal consumer? Be as specific as possible. This will help you develop a marketing strategy that is both cost-effective and valuable for your brand.
Fun fact
Olivia is an animal lover and passionate advocate for creatures of all kinds. Though she doesn't have any pets of her own, she spends as much time as possible giving shelter dogs some much-needed love, attention and exercise as a humane society volunteer dog walker.
Interested in working with Olivia?
Contact Us
Posts by Olivia Biskobing